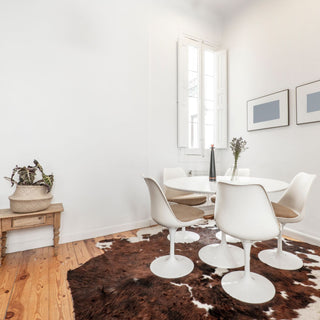 All Natural Cowhide Rugs
Genuine Quality New Zealand hides
Crafted from the finest grade ethically sourced, sustainable animal skins
Animal skins are very popular with interior design and add that extra wow factor in many homes and businesses throughout New Zealand. We see it as using the whole animal in a sustainable way and one that captures our sense of closeness with the environment we live in here in New Zealand.
Animal Skin Tanning Services
Let us tan your hides
We offer a contract skin tanning service to hunters, farmers or anyone who would like any sort of animal skin tanned. Our factory is located in Invercargill, Southland. We process skins for individuals from all over New Zealand. With many years of tanning experience we professionally cure many types of skins ranging from Rabbits and Possums to Sheep, Calf, Deer, Goat, Tahr, Chamois, Pig and Cattle. Animal skins can make a great addition to any trophy room or as a centre piece for interior designed homes. They can be washed or dry cleaned if necessary to ensure they stay looking fresh and attractive over the years. Our aim is to ensure the final result lives up to the customers' expectations and that it is something they will admire for years to come.
Sending us a skin?
Follow these 3 easy steps
Get the skin into a bag as soon as possible once it is off the animal. For details see Skin Preparation
Once frozen, forward it to us. Double bag the skin to ensure it doesn't leak on transit. Depending on the size of the skin either place it in a courier bag for 1-2 days delivery or place in a plastic box that can be sealed and send via a freight company. Please courier at the beginning of the week as we can't accept courier and freight on weekends. It can also be dropped directly to the tannery. For details see Freight Options
Include all your contact details inside the package so we know who the skin belongs to and to ensure we can contact you when the skin is completed. For details see Tanning Prices